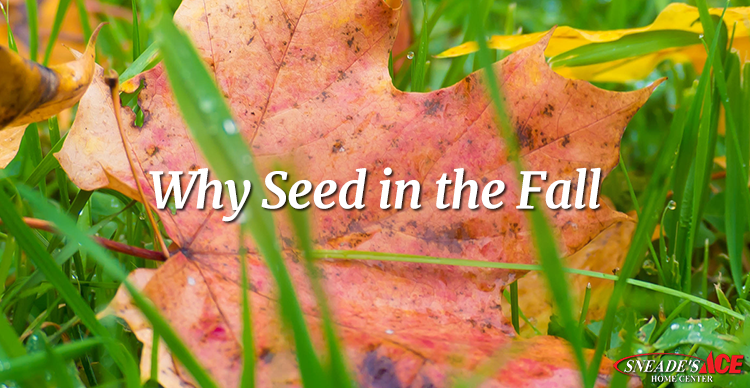 Why Seed Your Lawn in the Fall
Many of our Sneade's Ace Home Center customers frequently ask, when is the best time to plant grass seed? Often the answer is the Fall, but why is the Fall the best time to start a new lawn or over seed an existing lawn? The experts in our lawn and garden departments lend their advice as to why to choose the Fall for best results.
Expert Tip #1 – Let us start with the almighty Maryland humidity and heat during the summer months. Warmer days tend to strip the moisture away from the seeds and seedlings not allowing for germination. With cooler weather younger plants have a stronger chance to survive.
Expert Tip #2 – By planting in the fall you are giving your seeds an extra advantage. You are allowing for a full fall and spring seasons for your young grass to grow and create robust root systems. This allows your young grass time to prepare against the difficult summer it faces ahead with extra foot traffic, weeds, and extreme heat.
Expert Tip #3 – Your time is important. With all of the challenges, spring and summer bring, fall seems to be a less hectic time to plant. Tending to growing grass in the spring can bring its difficulties and frustrations. Did you know that it is recommended to water your newly planted seed up to three times daily for up to 3 weeks? Did you also know that there is not supposed to be traffic on your newly planted grass for up to 4 to 6 weeks? With all of the activity that Spring brings, newly planted grass seed often takes a back seat and so do your results.
Expert Tip #4 – Save BIG on water! Not only does Water Saver Grass RTF save water, but planting in the fall does as well. Water evaporates much less in cooler weather, keeping your seed and young grass moist which is the ideal growing condition. In addition, with the sun's changing angle in the sky, photosynthesis will actually slow and the grass will consume less water than if planted in the spring.
Expert Tip #5 – Annual grassy weeds such as bluegrass, crabgrass and goose grass all pose a threat to your newly planted seed. These grasses have an annual cycle in which they seed, grow and die within one season and will come back if not prevented. Spring is the time that these weedy grasses thrive and often take over young grass. When you plant your grass in the Fall it will be strong enough in the Spring for you to use a Weed and Feed or Turf builder product to prevent the grassy weeds from coming back and taking over.
Stop in and visit either of Sneade's Ace Home Center locations to discuss Fall planting with one of our many Home and Garden experts.