Echo, the leader in the handheld Lawn Care industry, introducing its first Knapsack Backpack Duster in 1950. Echo's headquarters are based outside of Chicago in Lake Zurich, IL, USA. With over 540,000 square feet of manufacturing facilities, the majority of ECHO products are Assembled in the USA from domestic and foreign parts and components.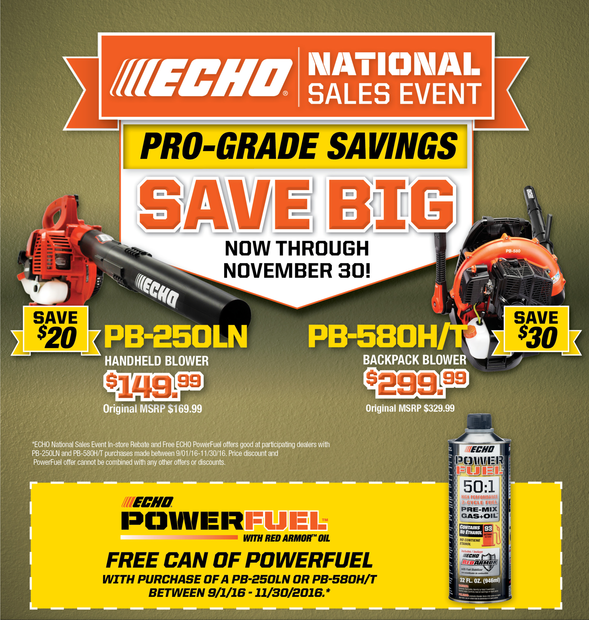 The Echo Hand-Held Blower – PB250LN
Packing power and delivering for homeowners and professionals alike. This model is highly reviewed and you will not be disappointed. The PB250LN has a forceful blowing power of 391 cubic feet per minute and air speeds of 165 miles per hour. The PB250LN is top of its class when it comes to technical advances. More power does not equal more weight. The PB250LN has a 25.4 cc professional grade two stroke engine and is also considered to be one of the lightest in its class. The ergonomically correct blower weighs less than 10 pounds. Big power also does not mean big noise. The PB250LN only emits 65 decibels, so noise will not be an issue when caring for your lawn. Grouped controls and Rotational Control Technology reduces that constant strain on your arm and wrists when operating your blower by reducing the twisting force and fatiguing hand positions we often experience.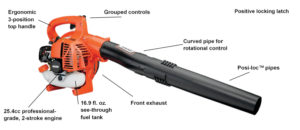 The Echo Backpack Blower – PB580HT
When you need a bit more to get your job done, consider a Backpack Blower. If you research online you will find that when larger lawns are being considered almost all will tell you that the Backpack Blower saves both time and effort. The PB580HT models have both hip mounted and tube mounted throttles for your preference. Packing a powerful 58.2 cc two stroke engine and a 62 oz. fuel capacity this Backpack Blower is eager to get the job done. The bigger motor really packs a punch and is able to move 510 cubic feet per minute with air speeds exceeding 215 miles per hour. Only weighing 22 lbs. and with the addition of a padded backrest and shoulder straps the PB580HT is a delight to use compared to other models in its class. The pack is also vented allowing air to circulate around your body, keeping you cooler on warm days. Lastly PB580HT has one of the best manufactures warranty available, offering a 5-year consumer, and 2-year commercial warranty.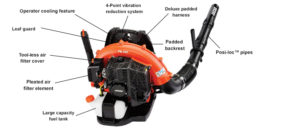 Sneades' Ace Home Center is proud to carry the Echo brand at both of our Owings, and Lusby, Maryland locations. Echo provides the quality, dependability and value for your dollar that Sneades' continually strides for. When in the market for a blower, do not hesitate to ask one of Sneade's Ace Experts for help determining what type of blower fits your needs.