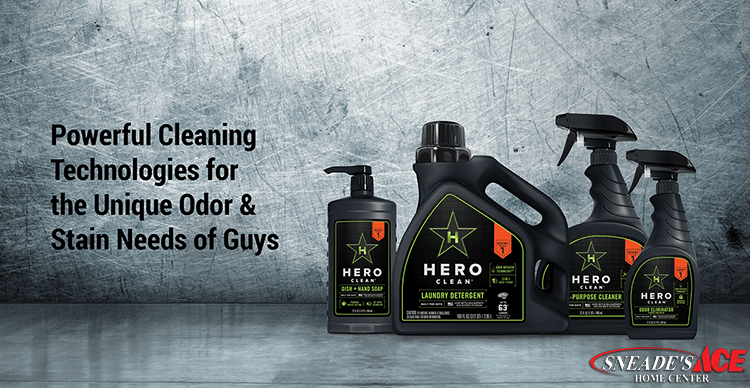 Hero Clean at Sneade's Ace
Which cleaning brand donates 7% to Vets? Hero Clean! Which cleaning brand has specifically engineered products for Men? Hero Clean! Which cleaning brand has simplified their product line? Hero Clean!
Almost half of our grocery shoppers are men. Now there is finally a cleaning product line specifically out there to handle the messes men make. Ever heard of Sweaty Boy Syndrome? Well no more. Hero Clean squashes odor molecules and then encapsulates them. Leaving today's work and active gear odor free.
Why Hero Clean?
DISH + HAND SOAP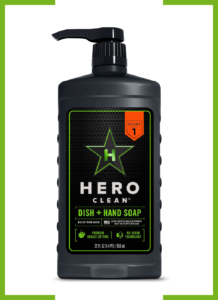 Our most flexible product. Great on dishes. Superior on abused hands. Makes great soapy water for all your other cleaning needs.
World Class Grease Cutter
No-Scrub Technology for dried on food
Dermatology tested
Bleach and Phosphate Free
ALL-PURPOSE CLEANER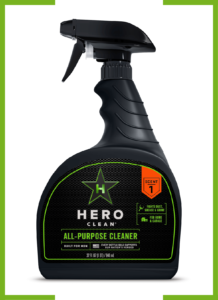 Psst, we're going to let you in on a dirty little secret: You don't need a separate cleaner for every surface in your house. One great product can tackle the surfaces in your home and garage. That great product is also in this bottle.
Multi-Surface Formulations – one bottle does it all
World Class Grease Cutting
Low Streak Formula
ODOR ELIMINATOR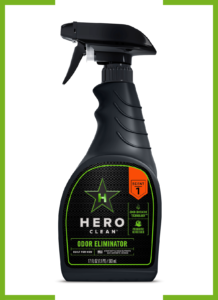 Battling odors is a never-ending struggle. We get it. That's why we created our Odor Eliminating Spray with state-of-art technology that targets odors at the source – eliminating them, and fighting them from coming back.
Eliminates Odor and Prevents Its Return
Probiotic Refresher fights odor causing bacteria
Odor Defeater Technology™ – specifically targets male sweat odor
Also a great laundry odor pre-treater
LAUNDRY DETERGENT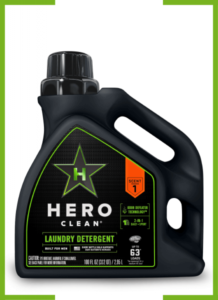 They say clothes make the man. We're not exactly sure who "they" are, but we're inclined to agree. That's why we formulated our 2-in-1 Laundry Detergent for men to keep your threads fresh, no matter the mess you find yourself in.
2 in 1 Every Day and Sport Wash
Odor Defeater™ Technology – specifically targets male sweat odor
6 Powerful Enzymes for Fighting Stains, Brighter Colors & Whiter Whites
Hero Clean Juniper-Based Scent