Echo National Sales Event
Join us for Echo's National Sales Event.  Echo is offering great prices and savings on their best selling professional grade gas powered handheld and back-pack blowers to help get your yard shaped up this Fall. Lightweight, Easy-to-start, and Powerful.

ECHO PB 250LN Hand Held Blower
The Echo PB 250LN is the industry standard when it comes to light weight hand held blowers. This light weight 25.4 cc professional grade 2-stroke engine blows out an enormous 391 cubic feet of air per minute at a whopping 165 miles per hour. Another major ergonomic advantage of the PB 250LN is the exclusive rotational control, giving the user a huge reduction in arm and back fatigue.

The Echo Backpack Blower – PB580HT
When you need a bit more to get your job done, consider a Backpack Blower. If you research online you will find that when larger lawns are being considered almost all will tell you that the Backpack Blower saves both time and effort. The PB580HT models have both hip mounted and tube mounted throttles for your preference. Packing a powerful 58.2 cc two stroke engine and a 62 oz. fuel capacity this Backpack Blower is eager to get the job done. The bigger motor really packs a punch and is able to move 510 cubic feet per minute with air speeds exceeding 215 miles per hour. Only weighing 22 lbs. and with the addition of a padded backrest and shoulder straps the PB580HT is a delight to use compared to other models in its class. The pack is also vented allowing air to circulate around your body, keeping you cooler on warm days. Lastly PB580HT has one of the best manufactures warranty available, offering a 5-year consumer, and 2-year commercial warranty.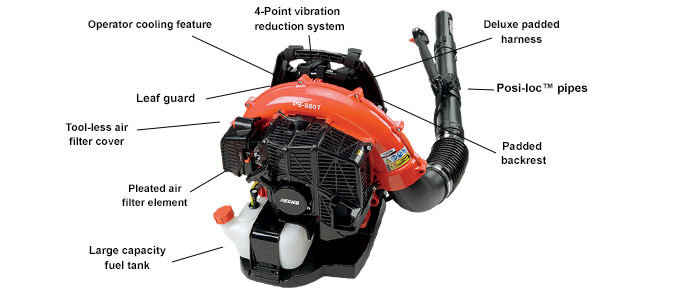 MORE FROM ECHO
ECHO GT 225 Curved Shaft Trimmer
The Echo GT 225 represents true quality and comfort with it's 48″ curved shaft. The I-30 Starting system makes it effortless to get going. While the light but powerful 21.2 cc professional grade engine ensures continued comfort as you complete your projects though out the day.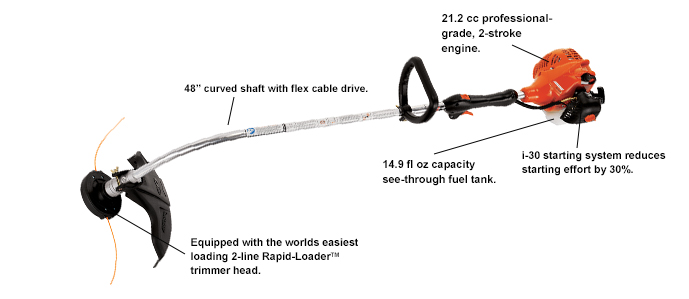 ECHO SRM 225 Straight Shaft Trimmer
The Echo SRM 225 straight arm trimmer is very well reviewed scoring 4.8 out of 5 stars averaged over 1800 reviews.  This solid straight arm trimmer has a powerful 21.2 cc professional grade 2-stroke engine and a 14.2 fluid ounce fuel capacity. With the I-30 Starting System from Echo this is the easiest trimmer to start that you have ever owned.