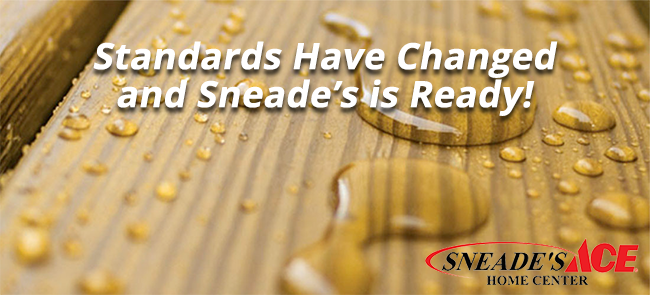 Now is the time to build that deck or work on that project because not only has the quality has gotten better, but you can save big when shopping with Sneade's
Quality, safety, and durability are all words that help describe the difference between treated and untreated wood. Many homeowners and contractors know of these two types, treated and untreated. But did you know that there are different grades of treated wood for different applications? In fact, recently a new standard was introduced in 2015 to the International Residential Code (IRC) by The American Wood Protection Association (AWPA) that requires Ground Contact UC4A treated wood to be used in various applications.
So now many stores offer all three, untreated, treated and Ground Contact UC4A. With this new requirement, you could image that planning out and purchasing quality lumber for your project had become more difficult.
At Sneade's Ace Home Center we continue to strive toward providing the best experience for our customers. That is why at Sneade's, ALL of our treated wood in ALL sizes will meet this new standard and will be Ground Contact UC4A treated lumber. You can be confident you are meeting these new standards when shopping at Sneade's Ace Home Center.
In addition, to ensure that you are using the best when buying from Sneade's, our 2×4 and 2×6 lumber has been upgraded to #1 PRIME.
Sneade's is proud to provide its customers with the finest lumber from Madison Wood Preservers based out of Madison, VA. Take advantage of our Drive Through Lumber Center at both of our locations and do not forget that Sneade's deliver. Call for our delivery opportunities.