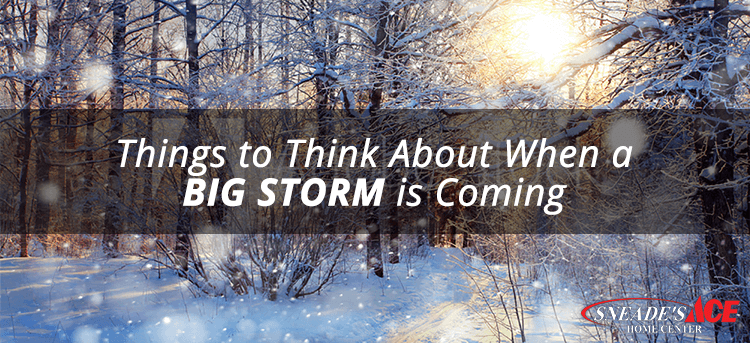 Enjoy the beauty of mother nature after the big storm by being prepared.  Southern Maryland is one of the most beautiful places on earth when we are blessed with a fresh coat of snow.  Unfortunately the storms that bring us this beauty can be fierce and can catch us off guard.  The Experts at Sneade's have come up with some tips on how to stay safe and comfortable with your family during a storm.
Check your HVAC system.  Now is the time to take a look at your heating and air conditioning system.  Make sure to Change Your Filter!  Cold weather for several days can put a strain on your system and many break down on the coldest of days. You do not want to be the 43rd in line to have a repairman come out during a polar vortex.
Stock up on Wood Pellets.  Many homeowners are turning to wood pellets as a reliable, cost effective alternative fuel.  Having an ample supply on hand will help keep your home warm during a cold snap or long weeks for below freezing temperatures. If you use a traditional fireplace please ensure that your chimney has been cleaned recently.
Turn on Your Ceiling Fans.  You read that correctly!  If your ceiling fan has a reverse switch it is encouraged to use your fan all winter long.  Reversing the fan rotation will push the warm air that has risen to the ceiling, back into the room.  Often you can reduce the setting on your thermostat by circulating this warm air throughout your home.
Clean Gutters.  If you are able to clean your gutters it would be a great idea before the winter season after all of the leaves have fallen.  So important in-fact that you may want to hire someone if you have not had the chance.  Clogged up gutters can lead to some big messes during the worst weather.  Water stuck in dirty, leaf filled gutters will freeze.  The weight may pull your gutters right off your house.  Water gathering at your foundation may cause leaks or further damage susceptible areas.
Caulk and Weatherstripping. Caulk is a very easy way to seal any cracks around door frames, window frames, as many areas around the home. Caulk works great for sealing up masonry cracks as well. Check your weatherstripping around all doors and windows to assure no air is leaking in.  Windows with poor caulking and weatherstripping is equivalent to leaving the front door open all day long. Both affecting comfort and finances.
Insulation is a Great Option.  Adding insulation creates a stronger barrier between you and the elements. Adding insulation to an unfinished garage, basement or crawlspace significantly increases the comfort level and temperature control for the entire home.  Both Sneade's Ace Home Centers have expansive Drive Thru Lumber Centers with multiple options when it comes to Insulation.  Ask a Sneade's Expert for ideas on how you could add insulation to your home.
A Checklist for Inside the House
Flashlights

Candles

1 gallon (8, 16oz bottles) of water per person per day

Essential Medications

First Aid Kit

Some Non Perishable Food Items (cans and boxes)

A Manual Can Opener

Baby Supplies if needed

Some Hygiene and Sanitary Items

Locate Extra Blankets
A Checklist for Outside the House
Snow Shovels, Brooms, and Ice Scrapers

Rock-salt to keep ice off of sidewalks and steps

Playground Sand for added traction on walkways
Stop by either Sneade's Ace location and Ask an Expert for advice on getting ready for a winter Storm. Also check out this Month's Red Hot Buys to see if any of your Winter preparedness items are currently on sale.