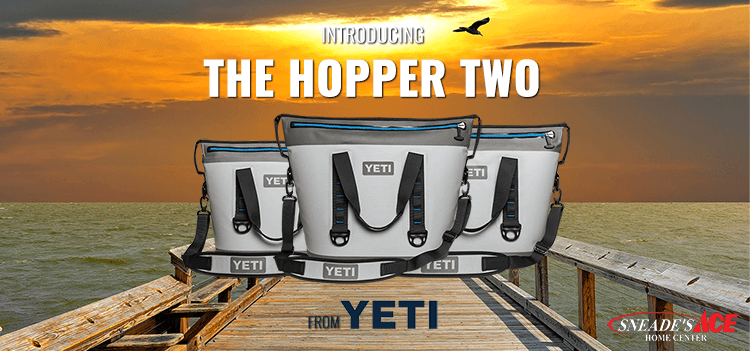 The absolute standard in soft-sided coolers, The Hopper Two focuses on usability and updates based on feedback and field testing the original Yeti Hopper. Well thought out updates make the Yeti Hopper Two stand out among competing brands.
Big Enhancements Include;
Reshaped Body:  The Yeti Hopper Two has a new ergonomic tapered top.  This makes long hauls much more comfortable as this cooler fits much better under the arm.
New Design: With the reshape of the cooler's body, Yeti thoughtfully re-positioned the opening and zipper of the Hopper Two.  This allows for a much larger opening, allowing easier access to the contents.
ColdCell Insulation: This state of the art insulation continues to keep Yeti's promise of "ice for days".
DryHide Shell: This material is made for the wild.  Extremely durable, waterproof, and WILL NOT LEAK.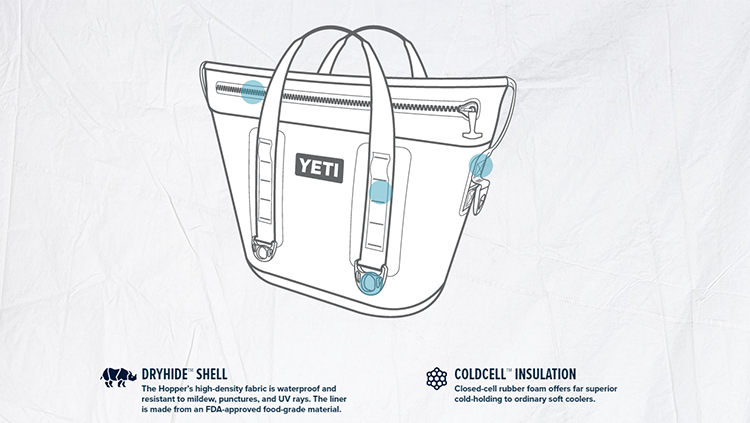 Additional Features Include;
Hydrolok Zipper: State-of-the-art design, combined with toughness. Perfect fit for Yeti's waterproof, leak-proof coolers.
Double Stitch Carry Option: Stitching counts an Yet knows it.  Reinforced stitching and a removable three position strap makes carrying the Yeti Hopper Two more comfortable and reliable for years to come.
Hitchpoint Grid: Located under the side handles, the Hitchpoint Grid allows you to accessorize your Yeti with the many things you need for your adventure. Clip on the Yeti Gear Case, keychains, carabiners, bottle openers and more.
Tie-down Points: Six tie down points allow you to easily secure your Yeti Hopper Two.
Yeti Hopper Two 20

Like the Hopper 20, The Hopper Two 20 is one of the most portable coolers on the market.  With the new innovations, the Hopper Two 20 is now easier to carry.
Yeti Hopper Two 30

With design changes, Yeti has pushed the boundaries of portable coolers.  Easier access, more cold holding power, more ice retention, and more comfortable.  All of these things add up to a better experience outdoors.
Yeti Hopper Two 40

With its extra large capacity, the Hopper Two 40 is build for larger trips and bigger hauls. Keeps ice for-days, tough-as-nails, and 100% Leak-proof. Check, check and check!
Sneade's Ace is fully stocked with this years hottest cooler, the Yeti Hopper Two. Stop by either locations and take a look at the new features and feel the toughness of Yeti Soft-sided Coolers.